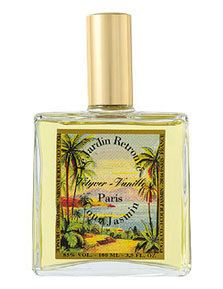 Eau de Parfum Vétyver/Vanille (Vetyver/Vanilla): Vetyver Essential Oil, extracted from the roots of this exotic plant found in Reunion Island, India and Indonesia, have been used by perfumers since time immemorial for their perfumes.

Each Perfumer interprets Vetyver perfume in his own manner, and that of Le Jardin Retrouvé with its tangy head note (Bergamot, Lemon), its bouquet - warm, woody with a touch of tobacco, and its base note that is spicy and peppery, makes this a classic and original fragrance. Vetyver Essence is one of the best-known elements for creating the core and base notes for several feminine and masculine fragrances.

To enhance its warm and suave character and augment the tenacity of his composition, Yuri Gutsatz has added a touch of Bourbon Vanilla which combines admirably with the dominant Vetyver of this perfume.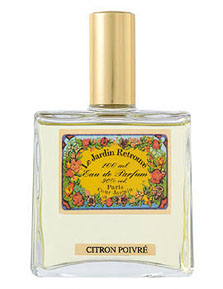 Eau de Parfum Citron Poivré (Spicy Lemon) : In this creation, Yuri Gutsatz, garbs the Essence of Lemon from Italy, which is known to be very volatile, with a selection of spices which turns it into a very original perfume, and imparts a lasting quality that the Essence alone does not possess.

In this spiced bouquet, you find a harmonious accord of Essences such as Pepper, Pimento, Cloves and Cinnamon combined with the fresh tones of St. John's Wort from Paraguay, and African Geranium.

The composition thus acquires perfect harmony between the head notes that are light and fresh and the core and base notes of this fragrance, which leave a very subtle trail of perfume in its wake.