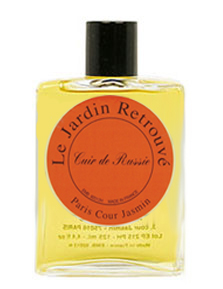 Eau de Cuir de Russie (Russian Leather) : The odour of leather has interested Perfumers for a long time because of its richness, its fullness and its slightly animal quality. Among the "LEATHER" perfumes that Perfume Creators have imagined and invented, RUSSIAN LEATHER holds a place of choice.

Every Perfumer has his personal secret for creating his CUIR DE RUSSIE and several interpretations are available without, however, any resemblance to each other. Each creator brings to it a touch of his own personality, adapting the fragrance to his own imagination. Only the LEATHER note remains more-or-less the same in each case.

In reviving this forgotten perfume, Le Jardin Retrouvé created a brand new interpretation of RUSSIAN LEATHER. While it still follows the strict traditions of French perfumery-making, it's originality is distinguishable with the various flowery and green notes, diffused and long-lasting, exhalting the the richness and warmth of the Jardin Retrouvé's RUSSIAN LEATHER.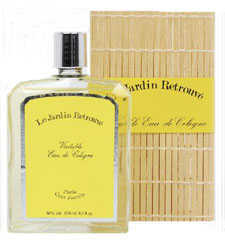 Eau du Jardin (Cologne) :
There are many stories told about Eau de Cologne:
That the inventor's name was Feminis, but they say it is his nephew, the famous Giovanni Maria Farina who was the first to manufacture this Eau at the end of the 18th century in the city of Cologne.
That the Emperor Napoleon never set out on one of his campaigns without taking along this Eau so fresh, young and invigorating.
That today a host of perfume compositions claim this prestigious title.
As for all its creations, Le Jardin Retrouvé has travelled back to the sources of perfumery in order to create its own Eau de Cologne.

Its Perfume Creator has selected the very best essential oils - Lemon and Bergamot from Italy, Neroli from Grasse, Orange and Mandarine, enhanced with touches of Oak Moss, Sandalwood from Mysore, and Musk.

Though it follows the most classical lines of Eau de Cologne, that of Le Jardin Retrouvé distinguishes itself by its own innate quality and the originality of its conception.